This post may contain affiliate links, which means I may receive a commission if you click a link and purchase something that I have recommended. This won't cost you any extra money. For more information see my Privacy Policy.
Fast, fresh and healthy
When it comes to deciding what to do for dinner sometimes inspiration strikes by simply stepping into my back yard. Living in Southern California I'm lucky to have fresh produce easily at hand. On this spring day, I picked some swiss chard, basil, and rosemary from my garden and combined them with lemons my neighbor gave me from her tree. These simple ingredients along with some kalamata olives, sundried tomatoes and pasta easily come together for a quick Mediterranean pasta dinner.
The Mediterranean diet has long been known for its health benefits. This combination of healthy greens, olives, and herbs is not only healthy but delicious. In addition to the chard from my garden, I threw in a handful of fresh spinach. It's a good idea to be generous with the quantity of greens as they tend to reduce dramatically once cooked.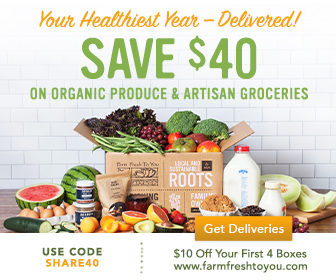 This Mediterranean Pasta recipe is naturally vegan and in this case gluten-free. The dish remains vegan with non-dairy Parmesan or if you do eat cheese, a sprinkle of freshly grated parmesan. I chose to add black garlic salt as a finishing touch which can be found at specialty grocery stores or online. One option I love is using black garlic finishing salt from Salinity Salt which is delicious. I also can order Jacobson Black Garlic salt as part of my weekly Farm Fresh to You delivery. When I don't have fresh greens and herbs from the garden I love the convenience and quality I get with my Farm Fresh produce. They've also added many pantry items as well so the other ingredients can simply be added to my delivery. Quick and easy! Enjoy!
Ingredients
8oz Pasta (I used gluten-free penne)
4 cups fresh greens (Kale, chard and/or spinach)
3 cloves garlic
1/2 cup Kalamata olives
1/2 cup sun-dried tomatoes (in oil)
1 tbsp crushed red pepper
1/4 cup chopped fresh basil
A sprig of fresh rosemary
1/2 - 1 lemon
Salt, pepper, parmesan and black garlic salt to taste
Instructions
1. Cook the pasta as directed by the package instructions. When al dente, drain and set aside.

2. While the pasta cooks prepare the rest of the ingredients. Roughly cut the greens, mince the garlic, slice the Kalamata olives, drain and roughly chop the sun dried tomatoes.

3. Over medium heat warm a 2 tablespoons of olive oil in a large skillet. Add the greens, garlic, and tomatoes and cook for 3 minutes, Add olives, crushed red pepper flakes and cooked pasta to the skillet. Cook, for an additional 1 to 2 minutes.

2. Add the chopped basil, rosemary and squeeze half a lemon into the pasta mixture. Warm through for another 1 to 2 minutes. Adjust with salt and pepper to taste. Add a pinch of black garlic salt and Parmesan or non-dairy parmesan for a vegan dish and serve.